Lincoln, Neb., September 08, 2020- The Alliance for the Future of Agriculture in Nebraska (AFAN) is celebrating Lincoln Premium Poultry's first year of success in their Fremont, Nebraska plant! LPP has shown resilience and grit through first year hiccups and a worldwide pandemic. On August 31st everything paid off as they finally reached their goal of operating at full capacity. "In the past year, our team members have worked through a year-long ramp up, kinks being worked out in equipment, a steep learning curve, and a global pandemic! They have continued to show up and get the job done each and every day. They are an inspiring group and we couldn't be more proud of them." Said Jessica Kolterman, Director of Administration at LPP.
Lincoln Premium Poultry continues to share their success with the community of Fremont, Nebraska. Despite whatever challenges arise in the community, LPP is always willing to step up and help. Mayor Scott Getzschman praises LPP for their partnership in the community. "As we approach the first anniversary of Lincoln Premium Poultry/ Costco, Fremont continues to be blessed to have such a wonderful partner. Their team has worked extremely hard to ensure they are meeting and exceeding all the guidance that was discussed during the planning process for this project, they are active in community activities, and they are very Philanthropic when it comes to giving. We look forward to our continued partnership and their success for many years to come."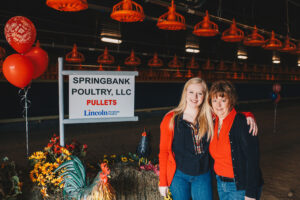 But the success of Lincoln Premium Poultry does not begin and end in the town of Fremont. Springbank Poultry in Allen, near Wakefield in northeast Nebraska is a prime example. Hannah Borg, whose family added a poultry operation, says it has given her the opportunity, as the sixth generation, to return to the family farm for her career. "My parents decided to expand and diversify our crop/ cattle farm operation by building barns for Lincoln Premium Poultry," she said. "Starting any new business is hard but starting a new business with no existing knowledge is even harder. My mom and I had never stepped foot into a chicken barn before the day we got our first batch of chickens so every aspect of raising chickens was brand new to us. It took us awhile but now we are confident in our abilities to be successful pullet growers. We are proud to be a part of growing chickens for Costco."
"At AFAN we are constantly working to add value to Nebraska agriculture through projects like Lincoln Premium Poultry. However, these projects become much more rewarding when we can bring generations back to family farms such as the Borg operation," says Steve Martin, executive director of AFAN. AFAN was an integral part of recruiting this project to the state, helping site barns, attending zoning hearings in support of growers and seeing it to completion. AFAN provides free one-on-one service to anyone interested in expanding or adding livestock to current operations.
Steve Martin commented "We are so excited to celebrate with LPP as they commemorate their first year of business and the exciting news that they were able to reach one hundred percent of internal operations this last week." Lincoln Premium Poultry will be able to provide Costco with approximately 2 million chickens each week! LPP, in conjunction with their community in Nebraska, are truly doing their part in feeding a small portion of our growing world.
About AFAN: The Alliance for the Future of Agriculture in Nebraska (AFAN) is a non-profit organization formed by leading agriculture organizations with the support of other membership groups, commodity organizations, and private business. AFAN works with individual producers and communities across Nebraska to encourage the development of environmentally responsible and economically viable livestock production in the state. For more information, go to becomeafan.org.